NLM Dialogue
The first AI assitant, that is made for enterprise and eGovernment.
Private by design, integrated with your data, optionally on-premise.
NLM Dialogue is based on our groundbreaking NLM 2 model.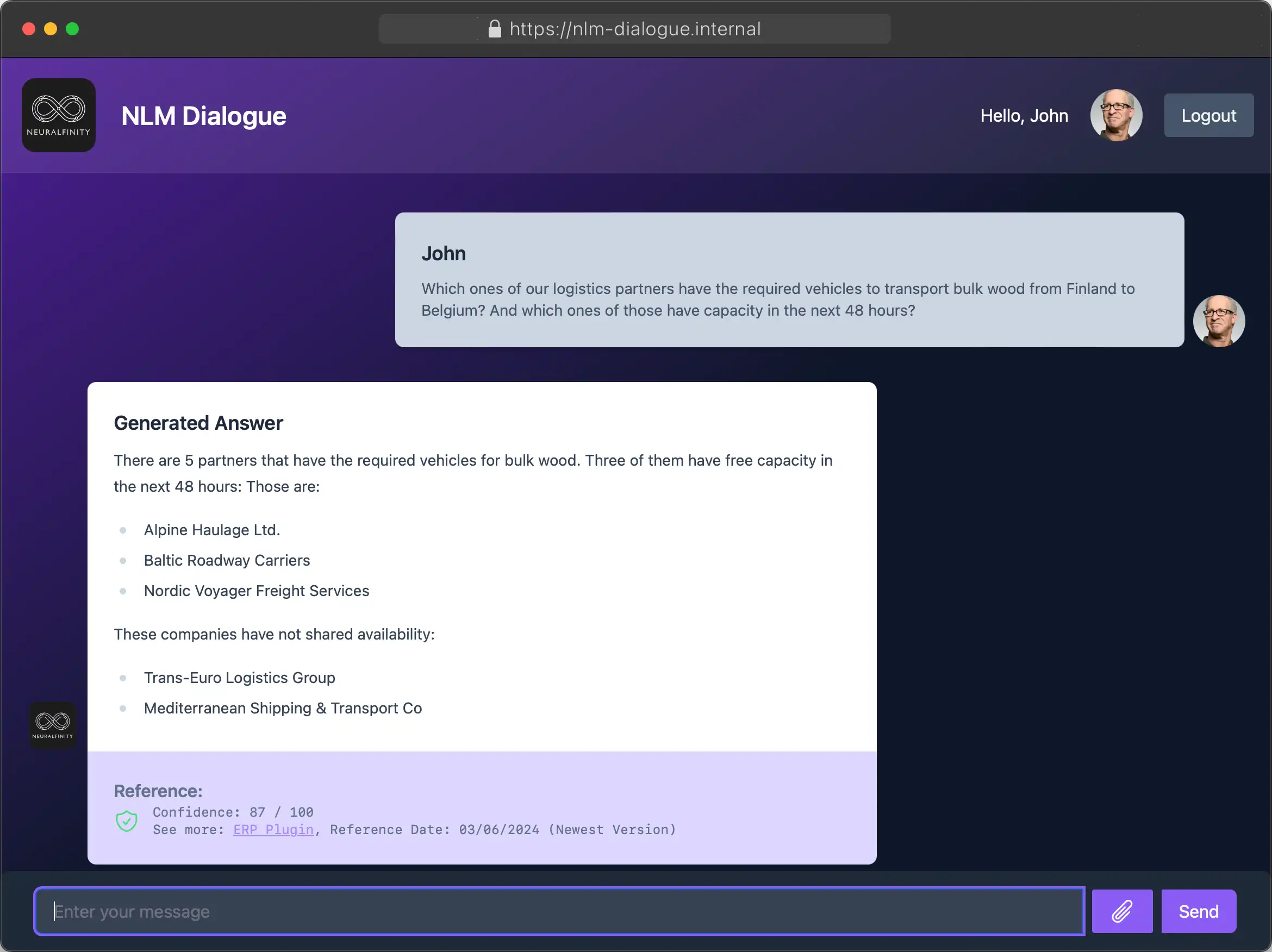 Made with
❤

in Hamburg

Meet NLM Dialogue, an innovative enterprise AI assistant born in Hamburg. Much like the skilled seafarers of Hamburg's illustrious past, NLM Dialogue navigates the turbulent seas of modern business with a steady hand.

This digital mariner carries forward the Hanseatic values of trust and fairness, balancing cutting-edge technology with the European spirit of privacy and security.

Just like a hanseatic captain, NLM Dialogue is not afraid to speak the truth (with references).
Infinity Context
No more limits on the context window, so you can interact with text of any length.
Verum Engine
We modified out model at the core to significantly reduce hallucinations and suggest references for model outputs.
Secure by Design
RBAC support to manage who can use features and access which data.
Optional On-Premise deployment.
Made for enterprise and government
The first enterprise ready AI assistant
NLM Dialogue has been engineered with your needs in mind. Security, privacy and above all, trust into the generated answers are centre stage for us.
Powered by our groundbreaking NLM 2 Model, we made sure, that NLM Dialogue is ready to take on diverse duties, from assisting your own employees to delivering better support for your customers.
Flexible deployment

On-premise or cloud? The choice is yours. We deliver the same support no matter where you deploy.

In-Context Vector Database

An In-Context Vector DB allows instant interaction with any documents provided - as reference and as knowledge sources.

Ready to use - or customize

The choice is yours: You can either deploy the entire NLM Dialogue reference application or pick and choose the parts you need.

Advanced security.

Role based access control, enterprise grade encryption, fine grained control over data, API and access to features.

Continuous Fine-Tuning

Your data changes constantly - and so can our model. Thanks to LoRA we can fine-tune in near real time, so NLM-Dialogue's answers will never be out of date.

Privacy by design

Your data is yours and you always remain in control. Unlike others, we will never use it to train models or share it with third parties.
We piqued your interest?
NLM Dialogue is currently in development. Register your interest here, to be the first to gain access: